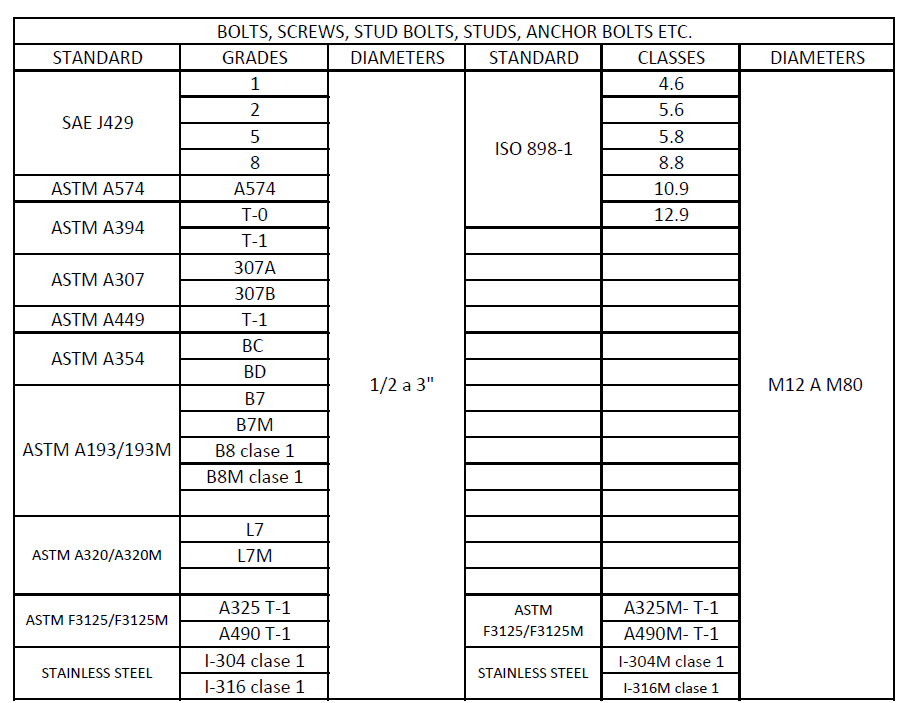 NOTES:
A) Common lengths are 40 inches due to the heat treatment of our furnases .
B) Without heat treatment or austempering they can be longer.
BOLTS, SCREWS, STUD BOLTS, STUDS, ANCHOR BOLTS ETC.
THREADS
UNIFIED INCH SCREW TRHEADS (UN AND UNR THREAD FORM) 60 DEGREE
INCH THREADS COARSE, 8UN , FINE , CLASS 2A
THREAD METRIC : STÁNDARD, FINE, MORE FINE, CLASS 6g
FINISHES
A) .- BLACK (PAVONADO OF HEAT TREATMENT)
B) .- BLASTED STEEL SHOT
C) .- PASSIVE VIBRAPOLISHING (stainless steel)
ELECTROLYTIC GALVANIZED: ASTM B633 & B766
A) ZINC COATING MORE WHITE CHROMATE
B) ZINC COATING MORE BLUE CHROMATE
C) ZINC COATING MORE YELLOW CHROMATE (called tropicalized)
D) ZINC COATING MORE OLIVE GREEN CHROMATE
E) ZINC COATING MORE BLACK CHROMATE
F) CADMINIZED COATING MORE CHROMATE WHITE
H) CADMINIZED COATING MORE YELLOW CHROMATE (called tropicalized)
H).-PHOSPHATIZED COATING
NOTE: The electrolytic finishes when the steel screws have hardnesses above 33 HRC
It is recommended to bake at 200 ° C, to eliminate possible hydrogen and avoid fracture,
When they are assembled and work under clamping tension.
HOT DIP GALVANIZED: ASTM F2329
A) ZINC
Major industries that buy from us: We manufacture rope lengths according to customer requirements
Low resistance Pipes Industrial Machinery Agricultural High Strength Rail Routes
Coachwork Construction Steel Structures Industry Electrical Transmission Towers
Oil Industry Telecommunications Industry Troqueles Treads for Torres
Automotive Industry Cement Industry Food Processing Mining Cranes
Chemical industry Desalination plants Pharmaceutical Industry Marine Industry
Aerospace Gas Turbine Nuclear Reactors